News And Events
KTL Slings Lift the Largest Offshore Tie-In Platform in the Arabian Gulf – 3,500t!
August 01, 2016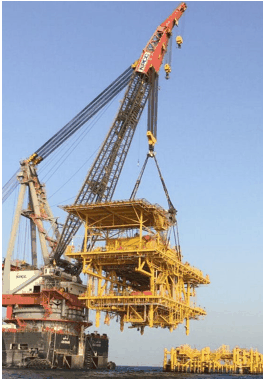 Saudi Aramco announced it had completed Saudi Arabia's largest ever offshore tie-in platform, the Marham TP-9 deck. The deck was then installed offshore and the lift was completed using cable laid slings manufactured by KTL Offshore (Middle East) FZC.

The facility is part of Saudi Aramco's programme covering the manufacturing and installation of four oil producing platforms and associated pipelines and power cables.

According to press reports, Saudi Aramco reported that "The completion of the massive 3,500 tonnes structure represents a major milestone for Saudi Aramco's strategy to develop its offshore oil resources and to sustain the in-Kingdom manufacturing capabilities.".

The cable laid slings were designed, manufactured and tested at KTL's rigging facility in the Hamriyah Free Zone in the U.A.E. The slings were made to IMCA M179 to exceptionally tight length tolerances.
Click here for project reference
KimLift Heavy Lift Synthetic Slings Used Successfully In Inpex and Prelude Projects

October 01, 2016

KTL Offshore's ground breaking KimLift synthetic slings were used to complete two offshore heavy lift subsea projects in recent months. For the Inpex project the largest KimLift slings (KLX-499)had an MBL of 1,998 MT and were used to lift and lower complicated SURF equipment. For the Prelude project, the KimLift slings...

Heavy Lift Slings And Grommets Manufactured by KTL Offshore Get The Job Done In The North Sea Using One Of The Largest Cranes In The World!

September 01, 2016

GINA KROG PLATFORMS SUCCESFULLY INSTALLED The top decks of the Gina Krog platform were installed in late June in less than a week using the Saipem 7000 installation vessel. The complete weight of the platforms was around 20,000 tons. KTL Offshore supplied the heavy lift slings and grommets for the lifting of the living...

Relocation of Subsidiary in Jakarta – PT KTL Offshore (Indonesia)

May 25, 2016

We are pleased to announce that our subsidiary in Jakarta – PT KTL Offshore (Indonesia) – has relocated to their brand new office located at: Gedung Baja, Tower B Floor 2 Unit: B 02-02, Jalan Pangeran Jayakarta No. 55, Mangga Dua Selatan, Sawah Besar – Jakarta Pusat 10730. PT KTL Offshore (Indonesia) is...