News And Events
KTL Slings Lift the Largest Offshore Tie-In Platform in the Arabian Gulf – 3,500t!
August 01, 2016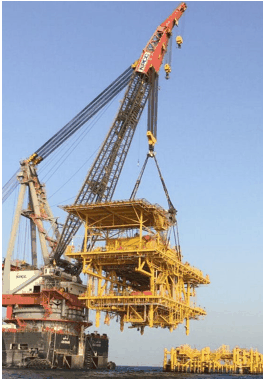 Saudi Aramco announced it had completed Saudi Arabia's largest ever offshore tie-in platform, the Marham TP-9 deck. The deck was then installed offshore and the lift was completed using cable laid slings manufactured by KTL Offshore (Middle East) FZC.

The facility is part of Saudi Aramco's programme covering the manufacturing and installation of four oil producing platforms and associated pipelines and power cables.

According to press reports, Saudi Aramco reported that "The completion of the massive 3,500 tonnes structure represents a major milestone for Saudi Aramco's strategy to develop its offshore oil resources and to sustain the in-Kingdom manufacturing capabilities.".

The cable laid slings were designed, manufactured and tested at KTL's rigging facility in the Hamriyah Free Zone in the U.A.E. The slings were made to IMCA M179 to exceptionally tight length tolerances.
Click here for project reference
OFFSHORE TECHNOLOGY CONFERENCE 2018

April 18, 2018

OFFSHORE TECHNOLOGY CONFERENCE 2018 EXHIBITION HOURS : Monday, 30 April 0900 - 1730 Tuesday, 1 May 0900 - 1730 Wednesday, 2 May ...

Notice : Relocation Office

February 15, 2018

We are shifting office this month! During the relocation period from 9th February till 23rd February, you may be unable to contact us on our usual direct line number. Please do continue to contact us via email or our mobile lines. Our new address is 7 Gul Road Singapore 629364 with effect from Friday 23rd...

KimLift Heavy Lift Synthetic Slings Used Successfully In Inpex and Prelude Projects

October 01, 2016

KTL Offshore's ground breaking KimLift synthetic slings were used to complete two offshore heavy lift subsea projects in recent months. For the Inpex project the largest KimLift slings (KLX-499)had an MBL of 1,998 MT and were used to lift and lower complicated SURF equipment. For the Prelude project, the KimLift slings...